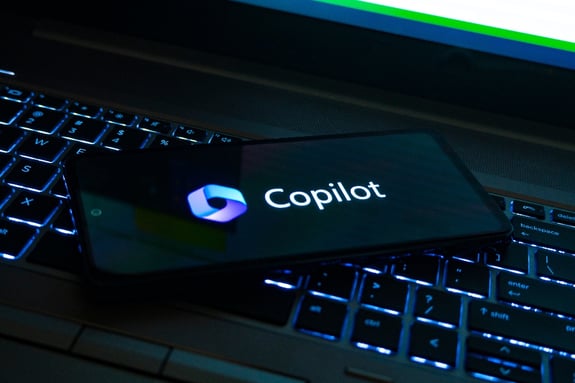 Microsoft AI
Microsoft Copilot
Microsoft Copilot has been a hot topic for months now, but how can it actually help your organisation. At Ingentive we are recognised AI experts, able to not only assist you with how Microsoft Copilot will work with your favourite applications like Word and Excel but how you can use in across automation and data.

Using Large Language Models (LLM) Microsoft Copilot learns with your organisation and can be stretched across Microsoft Teams, Security, Power Platform and even data, Get in touch today to see how we can get you prepared for Microsoft CoPilot. Get started today.

Microsoft AI for enterprise
At Ingentive, we believe that Artificial Intelligence (AI) is the most transformative development since the advent of the Internet. It is not just a technology; it is a colossal opportunity for our clients to reimagine every facet of their operations. Just as the internet revolutionised communication, AI has the power to reshape how businesses go to market, empower their employees and eliminate friction in processes.

With Microsoft Copilot, our AI expertise goes beyond mere implementation; it is about putting technology where it matters most - in the hands of the people who can truly leverage its potential. Join us in unlocking the unparalleled possibilities of Microsoft AI and reshaping the future of your business.
Copilot for Power Platform
Introducing Microsoft Copilot, an innovative approach to unleashing the full potential of Microsoft Power Platform. Microsoft Copilot is your strategic partner, offering a collaborative and consultative approach that ensures your Power Platform solutions align seamlessly with your business objectives.
Copilot for M365
Ingentive's Microsoft Copilot for M365 takes your productivity to new heights. With Microsoft AI embedded across the suite, we enhance meetings, extract valuable insights and elevate employee engagement, offering unparalleled productivity transformation.
Copilot for security
Microsoft Copilot for Security by Ingentive: Redefining safety with AI integration. From threat detection to compliance, our Microsoft Copilot for Security ensures a fortified digital defence. Experience a new era of security with AI-driven insights and proactive protection.
Design and Implementation
A sophisticated fusion of Microsoft AI methodologies and expert guidance. From leveraging machine learning models to implementing advanced algorithms, our Microsoft Copilot ensures a seamless integration of cutting-edge AI technologies tailored to your business needs. This approach guarantees a strategic infusion of Microsoft AI, redefining the landscape of your operations.
Project Delivery
Adopt an agile project approach for all your
Microsoft AI
projects, ensuring your solutions meet your needs while being cost-effective and of high quality.
Ongoing Support
We
provide
continuous support to ensure your Microsoft AI applications run optimally. Trust
Ingentive
to keep your operations smooth, efficient, and aligned with your
objectives
.
Microsoft AI - How to get started
The transformative powers of Microsoft AI include:
Uplevel skills
Harnessing the vast capabilities of large language models, Microsoft 365 Copilot allows users to upskill at scale and speed. stretching across multiple areas of the Microsoft stack, it allows us to fully do more with less.
Unlock productivity
Say goodbye to monotonous chores and embrace efficiency. Microsoft Copilot in Outlook declutters your inbox, while its presence in Teams ensures every meeting has clear and measurable objectives and allows everyone to feel included.
Unleash creativity
From aiding in kickstarting your creative process in Word to crafting spectacular presentations in PowerPoint or generating detailed data visualisations in Excel, Microsoft Copilot ensures you're never left grappling with a blank canvas.
How can you benefit?
Using Microsoft Copilot
As an organisation, you may be facing different challenges such as administrative burden for documentation, poor customer service or a lack of control on data management. Microsoft Copilot can help you alleviate these challenges through customised AI integrations, built around your team and organisation.
Solve data issues
Manage complex data issues in your workplace with adaptive Microsoft AI integrated across your entire operations and avoid spending additional time on problem-solving.
Manage productivity
Improve your financial productivity using a smart platform that collect data to manage revenue cycles, decision support and financial records - all in one platform powered by Microsoft AI.
Smart suggestions
Improve your reports and content created with Microsoft Copilot, offering suggestions, tips, and feedback on clarity, sentiment, tone, and style.
Team efficiency
AI for business can help your team increase productivity by over 40%. With the appropriate tools and assistance, Microsoft Copilot fully integrates into your operations and helps you save time.
Reduce errors and repetitive tasks, using Microsoft Copilot for business and spend more time on key responsibilities, such as planning or reviewing results. Your team can also use Microsoft AI in meetings to
summarise conversations, pulling key information from various sources, ensuring they don't miss any important details. Learn more about Microsoft Copilot.
Microsoft AI Builder
Microsoft AI Builder and Ingentive offer substantial benefits to businesses through AI-driven solutions. Our use of Microsoft AI Builder enables your business to create tailored AI models without extensive coding knowledge, automating processes, extracting insights from data, and integrating AI capabilities into your existing workflows.
We ensure that AI solutions align with your objectives, are well-integrated, scalable, and yield accurate results. Partnering with Ingentive facilitates the effective utilisation of Microsoft AI for business - to enhance efficiency, decision-making, and innovation within your organisation.
Expert Consultation
We offer

expert guidance on identifying the most suitable AI use cases for your business. Helping you align AI strategies with your objectives, ensuring maximum impact.
Custom Implementation
We tailor AI Builder's capabilities to your specific business needs. Our experts design and implement custom AI solutions that address your unique challenges, improving efficiency and accuracy.
Seamless Integration
We

seamlessly integrate AI solutions into your existing workflows, ensuring a smooth transition and minimal disruption.
Efficient Data Management
Effective AI implementation relies on quality data. We
assist in data preparation, cleansing, and integration, ensuring that your AI models yield accurate results.
Training and Support
We provide training to your team on effectively using AI solutions and offers ongoing support to address any issues or questions that arise.